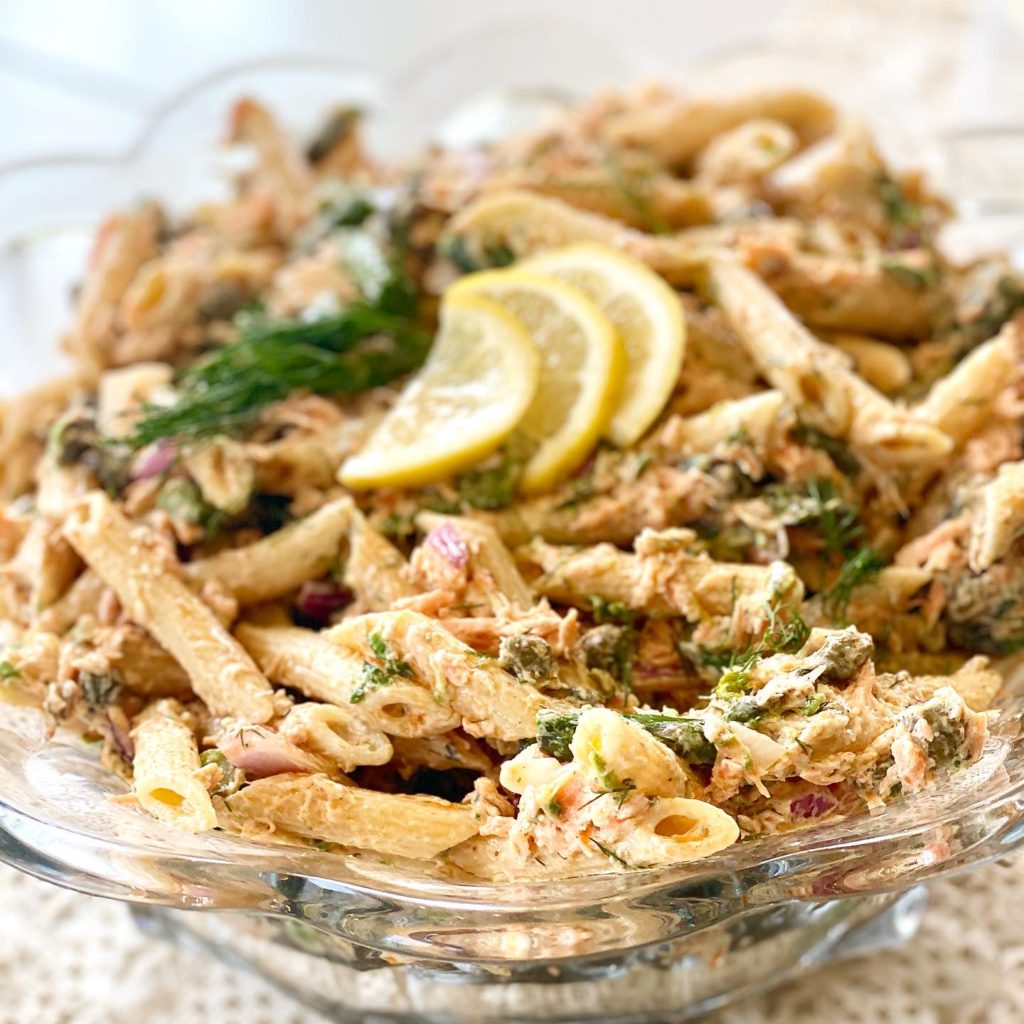 Ingredients:
16 oz. Salmon
16 oz. penne pasta cooked based on package instructions (any kind of penne pasta will work!)
1 lb. asparagus
1 small red onion, diced
5 oz. fresh dill, finely chopped
1 ½ cup Greek yogurt
¼ cup light olive oil
Juice of 1 fresh squeezed lemon
1 tablespoon old bay seasoning (plus a little extra to season the salmon)
¼ teaspoon salt
½ teaspoon pepper
4 oz. capers
Instructions:
Preheat oven to 425 degrees. Drizzle olive oil onto a baking sheet and place salmon skin side down onto the pan (skinless salmon is fine too!) Sprinkle old bay seasoning on top of the salmon in an even layer, about ½ teaspoon. Bake for 15-20 minutes or until the salmon is cooked through and easily flakes. Flake the salmon into small bite size pieces and let cool. Set aside.
While the salmon is baking cook pasta according to package instructions. Let the pasta cool in the fridge.
Dice red onion and finely chop dill. Set aside.
Next, steam the asparagus. Cut off about an inch from the bottoms of the asparagus stalks. Wrap them in a couple layers of wet paper towel, set on a microwave safe plate and microwave for 5 minutes. Remove from microwave. Submerge the stalks in a bowl of ice water. Once the asparagus has cooled a bit, remove the stalks from the water and cut into small pieces about 1 inch in length. Set aside.
In a medium size mixing bowl combine, Greek yogurt, light olive oil, lemon juice, old bay seasoning, salt and pepper. Wisk until all ingredients are combined.
In a large mixing bowl combine pasta, salmon, asparagus, diced onion, dill, capers and Greek yogurt mixture. Toss until all ingredients are coated in the yogurt sauce.
Serve with a bit of extra chopped dill on top and a squeeze of lemon and enjoy!