Ingredients: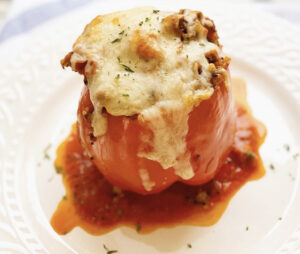 6 bell peppers⠀
1 lb lean ground beef (or ground turkey or ground chicken)⠀
1 small onion ⠀
3 garlic cloves ⠀
1 can small diced tomatoes ⠀
1 cup quinoa- uncooked (I used tricolor)⠀
1 1/4 low sodium beef broth (or turkey or chicken broth if you are using ground turkey or chicken)⠀
1 tablespoon Worcestershire sauce⠀
1/2 teaspoon Italian seasoning ⠀
1/2 teaspoon salt ⠀
1/2 teaspoon pepper ⠀
2 1/2 cups marinara sauce (divided) ⠀
3/4 cup shredded mozzarella cheese
Instructions:
Preheat oven to 350°F.
Cut the tops off the peppers (reserve the tops), remove seeds, top stem and membranes- discard them.
Using a food processor finely chop onion, garlic and bell pepper tops.⠀
In a large skillet brown beef, onion, garlic and bell pepper mixture and salt over medium high heat until no pink remains.⠀
Stir in the diced tomatoes with juice, quinoa, beef broth, Worcestershire sauce, Italian seasoning and pepper.
Bring to a simmer, reduce heat and cover. Cook about 20 minutes or until quinoa is tender. Stir occasionally. Add 1/2 cup marinara sauce.
Place 1 1/2 cups of marinara sauce in the bottom of a 9×13 pan. Fill each pepper with the mixture. Spoon remaining marinara sauce over peppers.
Cover with foil and bake 40 minutes. Remove foil and top peppers with shredded mozzarella cheese and bake an additional 10 minutes or until cheese is melted. Serve and enjoy!