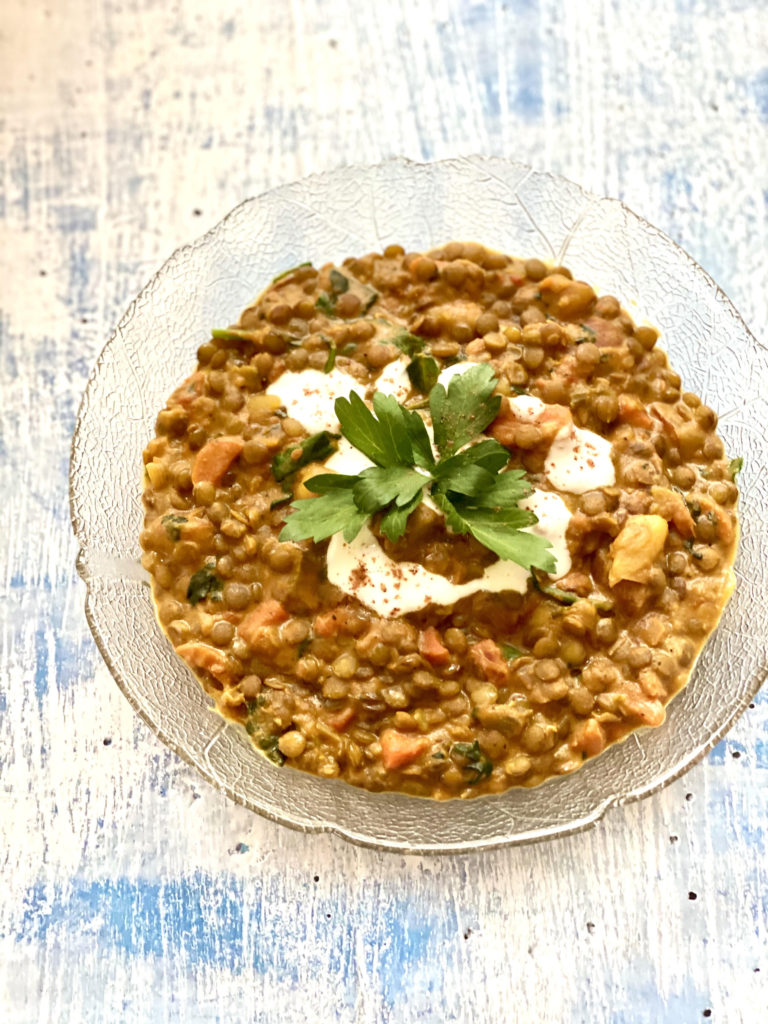 Ingredients:
2 TBPS extra virgin olive oil
3-4 cloves of garlic, minced
1 medium onion, diced
1 cup celery, diced
1 cup carrots, diced
3 cups green lentils (rinsed)
2 cups red potatoes, cubed
2 ½ cups Low-sodium vegetable broth
2 bay leaves
2 TBSP curry powder
½ TSP ground ginger
1 TSP ground cumin
Dash of cinnamon
Dash of nutmeg
1 cup coconut milk
1 cup crushed tomatoes
Handful of fresh baby spinach
Salt and pepper to taste
Instructions:
Add extra virgin olive oil to a large soup or stock pot and sauté garlic, onion, celery and carrots over medium heat. Cook for about 5 minutes until the veggies begin to soften and onions start to become translucent.
Add lentils, potatoes, vegetable broth, bay leaves and all spices. Stir and bring to a boil over medium-high heat.
Reduce heat to medium-low. Add coconut milk, crushed tomatoes and baby spinach. Stir well. Add salt and pepper to taste. Cover and simmer for about 40 minutes or until lentils are tender and vegetables are just fork tender, stirring occasionally. Remove bay leaves. Add more vegetable broth if you prefer a thinner stew. Top with optional fresh herbs and Greek yogurt. Serve and enjoy!