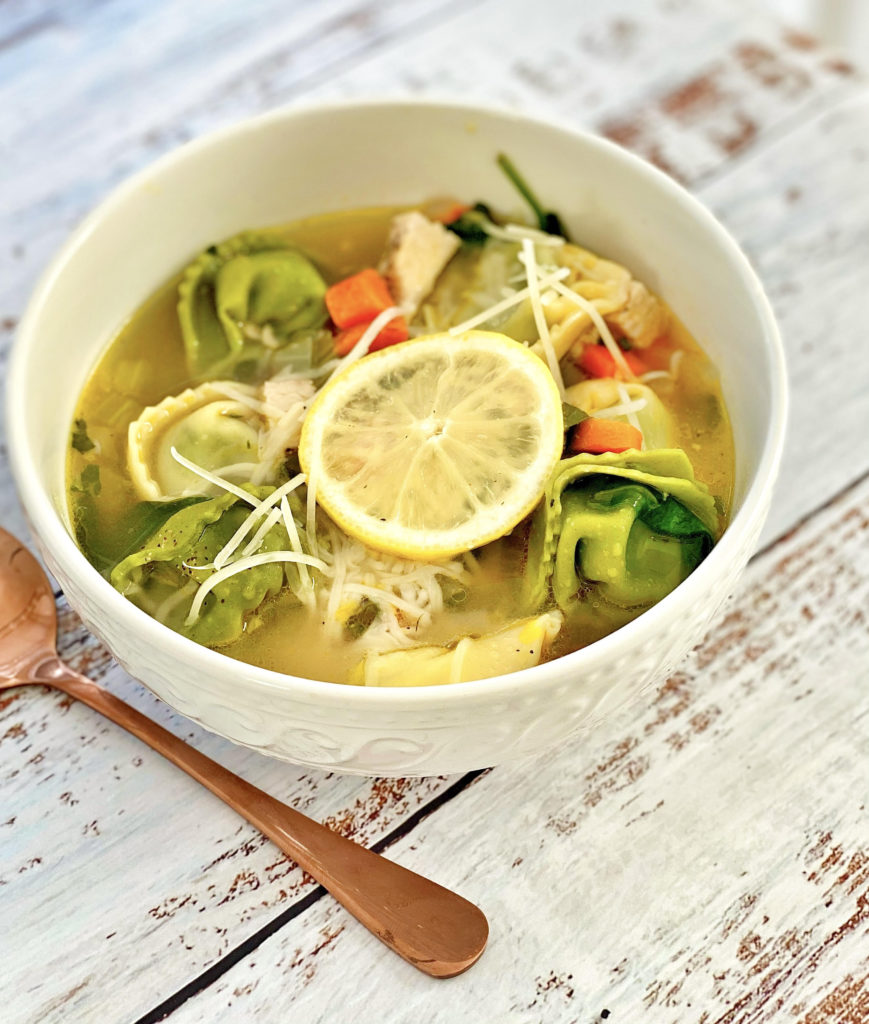 Ingredients:
2 lbs. boneless uncooked chicken breast
2 cups carrots, diced
2 cups celery, diced
1 medium onion, diced
3 cloves of garlic, minced
1 lemon, sliced into thin slices
¼ cup lemon juice
8 cups chicken broth
2 tablespoons olive oil
1 cup baby spinach
20 oz. refrigerated spinach and cheese tortellini
Salt and pepper to taste
Instructions:
1. Preheat oven to 350 degrees. Sprinkle both sides of chicken breast pieces with salt and pepper. Place chicken breast in a large glass baking dish. Place lemon slices on top of the chicken breasts, about 2 slices of lemon per piece of chicken. Bake for 20-25 minutes depending on the size of your chicken breast slices.
2. While the chicken is baking, dice carrots, onion and celery. Mince garlic. In a large pot (I used a 16 quart pot) add olive oil and all of your veggies over low to medium heat. Add a dash of salt and pepper. Let the veggie mixture sweat down until the onions are translucent and the celery and carrots have begun to soften. This should take about 10 minutes. Stir often.
3. Once the chicken is done baking let it cool until it is cool enough to handle and chop into small chunks. Add chicken, any run off liquid from your cooked chicken (that has collected in the glass baking dish), lemon juice and chicken broth to the veggie mixture. Cover and let simmer on low heat until the carrots and celery have completely softened. This should take about 15 minutes.
4. Add tortellini and spinach to the soup. Cover and cook for another 4-5 minutes. Your spinach should be completely wilted and the tortellini should be pillowy and floating on top. Add salt and pepper to taste. Serve with optional parmesan cheese and a lemon slice and enjoy!