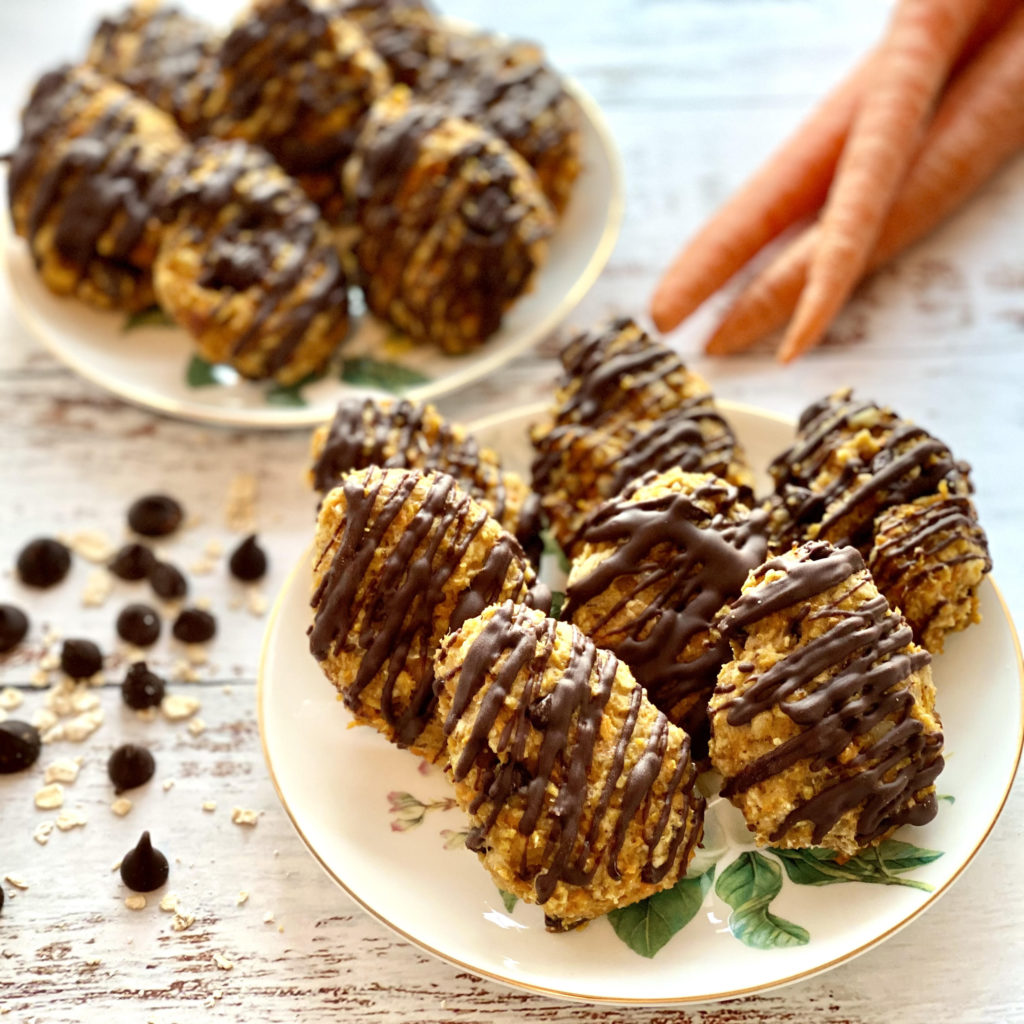 Ingredients:
1 cup quick or instant oats
3/4 cup whole wheat flour
1 ½ TSP baking powder
1 TSP ground cinnamon
1 TSP all spice
1/4 TSP salt
2 TBSP melted coconut oil & additional TSP of coconut oil for chocolate drizzle
1 egg white
1 TSP Vanilla
1/2 cup good quality maple syrup of agave nectar
1/4 cup milk (I used oat milk, but any kind of milk will work)
3/4 cup peeled and finely grated fresh carrot
1 cup chocolate chips. Divided
Optional: ½ cup finely chopped walnuts
Optional: ¼ cup finely shredded coconut
Instructions:
In a large bowl mix together oats, flour, baking powder, cinnamon, all spice, and salt. In a separate bowl, whisk together the coconut oil, egg white, vanilla extract, maple syrup (or agave nectar) and milk. Add the wet mixture to the flour mixture, stirring just until all ingredients are incorporated. Gently fold in the carrots, ½ cup chocolate chips and optional coconut and walnuts.
Preheat the oven to 325°F, and line a baking sheet with parchment paper.
Separate the cookie dough into 18-20 even portions and shape into an egg shape for Easter (or rounded cookie shape) and flatten to desired thickness. Evenly place the cookies on the baking sheet(s). Bake at 325°F for 13-15 minutes. Cool on the pan for 10 minutes before transferring to a wire rack.
While the cookies are cooling, in a microwave safe dish combine remaining ½ cup of chocolate chips and 1 TSP of coconut oil. Microwave in 30 second increment siring well in between each 30 seconds in the microwave until the mixture is melted and smooth. Once the cookies have cooled use a fork to drizzle the melted chocolate on top of each cookie. Put them in the fridge to let the chocolate harden for about 30 minutes. Serve and enjoy!