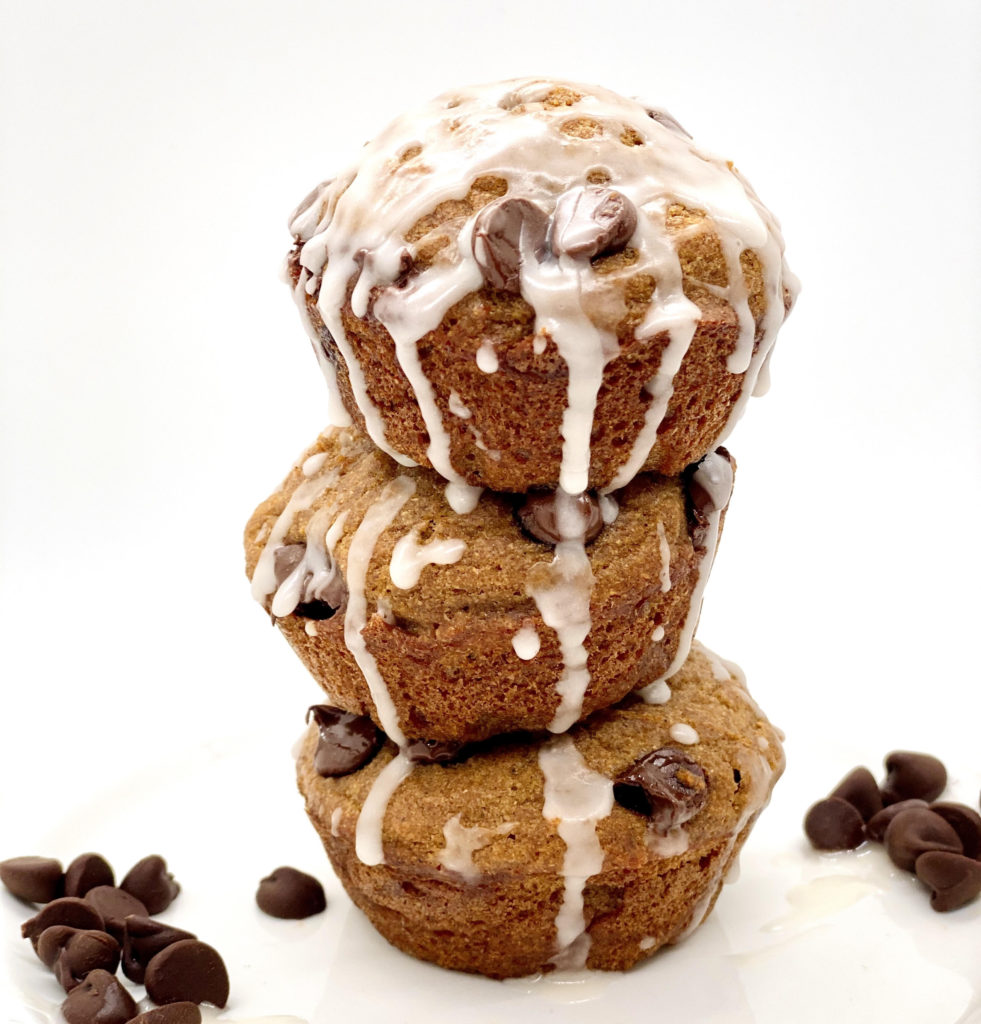 Ingredients:
For the Muffins:
2 ½ cups whole wheat flour
½ TBSP pumpkin spice
1 TBSP ground cinnamon
2 tsp baking soda
1 tsp baking powder
1 cup canned pumpkin
½ cup brown sugar
1 cup unsweetened applesauce
¼ cup honey
1 cup Greek yogurt
2 large eggs, room temp
1 tsp vanilla extract
½ cup coconut oil melted and cooled
1 cup chocolate chips (divided)
For the Optional Glaze:
1 cup powdered sugar
2 TBS milk (I used oat milk)
½ teaspoon vanilla extract
Instructions:
Preheat the oven to 350F. Grease two muffin/cupcake tins or line with paper liners. Set aside.
In a medium bowl combine dry ingredients and set aside.
In a large bowl whisk together pumpkin, sugar, applesauce and honey, Greek yogurt, eggs, vanilla and melted/cooled coconut oil.
Add the dry ingredients to the wet ingredient mixture by gently folding in using a spatula or mix on low speed with an electric mixer.
Fold in 3/4 cup of chocolate chips with spatula.
Spoon batter in greased muffin tins about ¾ of the way full. Top the batter with the remaining 1/4 cup of chocolate chips (a few on each muffin.) Bake for 20-22 minutes or until a toothpick inserted into the center of the muffins comes out clean.
Allow muffins to cool in the tins for about 25 minutes before removing.
For optional glaze: Sift the powdered sugar into a medium bowl. Whisk in milk and vanilla extract. Drizzle glaze on top of each muffin. Serve and enjoy!