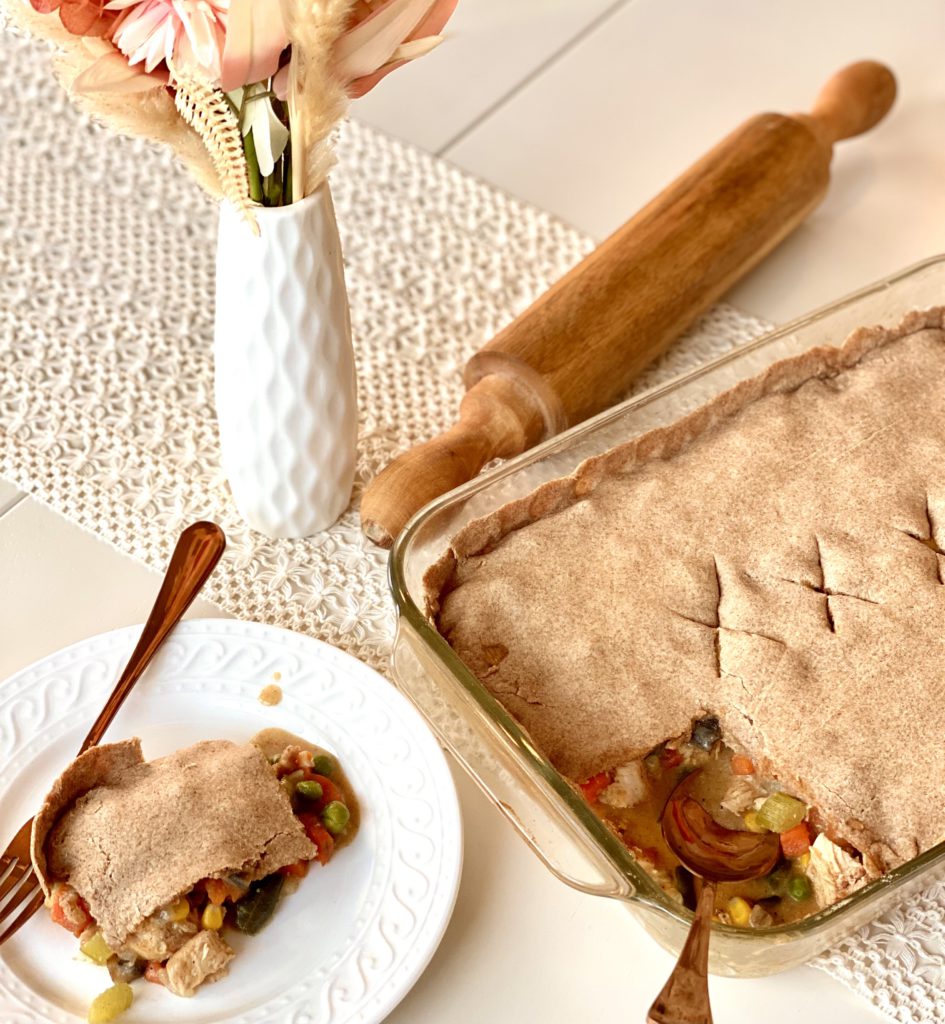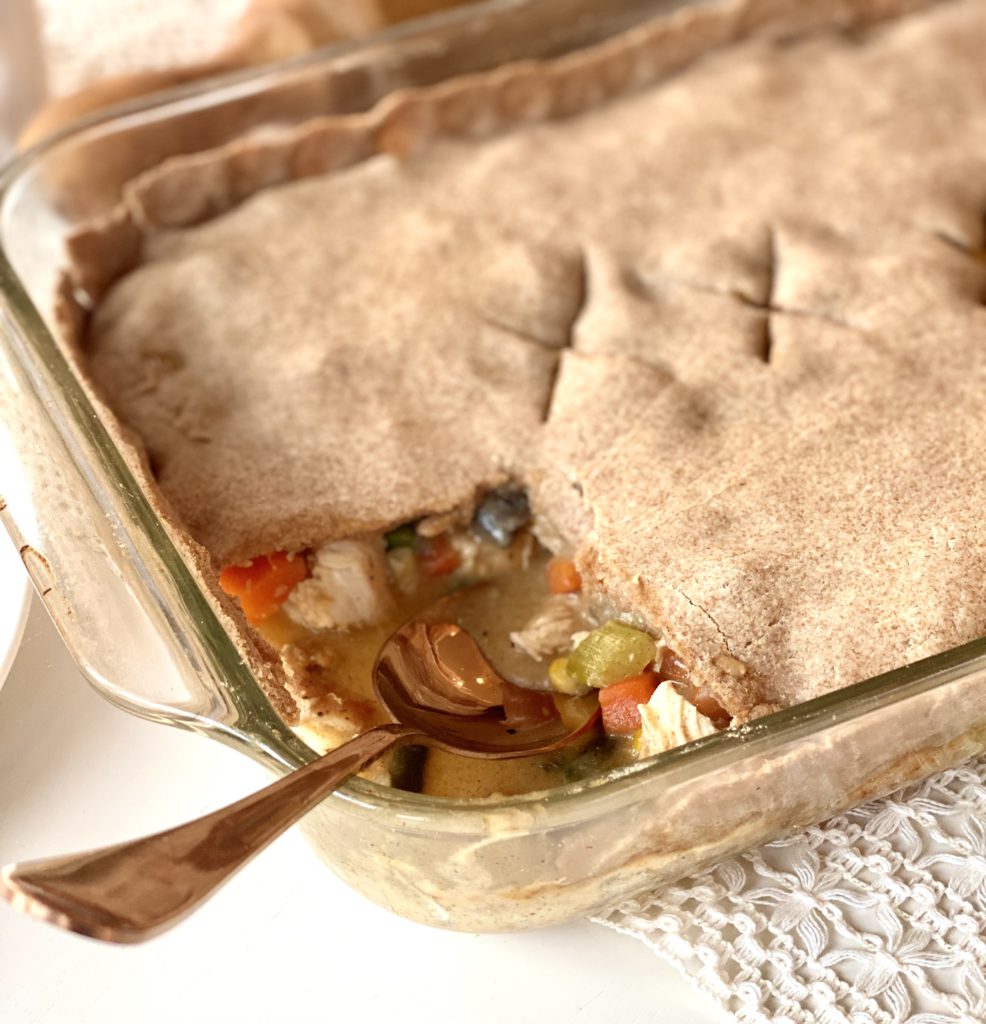 Ingredients:
3 chicken breasts (uncooked)
2 TSP salt, divided
¾ TSP pepper, divided
½ TSP paprika
2 TBSP light olive oil, divided
1 small yellow onion, diced
1 cup fresh carrot, diced
1 cup celery, diced
1 cup white mushrooms, chopped
1 10 oz. bag frozen veggies (corn, carrots, peas, green beans)
1 ½ cup almond milk
1 cup low sodium chicken broth
5 TBSP whole wheat flour
1 TSP fresh or dried thyme
1/4 TSP ground sage
¾ TSP garlic powder
¼ TSP pepper
For the Crust Topping:
2 cups whole wheat flour
¾ cup unsalted good quality butter, chilled and cubed
1 TSP salt
½ cup ice cold water
Instructions:
Start by seasoning both sides of the chicken breasts. Sprinkle ¼ TSP of salt, ¼ TSP pepper and ¼ paprika on either side of each chicken breast. Drizzle 1 TBSP of light olive oil into a large nonstick pan. Place the chicken breasts into the pan and cook on medium heat for about 20 minutes or until the chicken is cooked through, turning each chicken breast regularly. When chicken is done cooking let cool in the pan until ready to use.
While chicken is cooking, add 1 TBSP light olive oil, diced, onion, carrot, celery, mushrooms and frozen veggies into a large stock pot over medium/high heat. Let veggies cook for about 10 minutes stirring occasionally.
In a large mixing bowl combine almond milk, low sodium chicken broth, whole wheat flour, dried thyme, ground sage, garlic powder, 1 ½ TSP salt and ¼ TSP pepper. Whisk until all ingredients are combined. Slowly pour the liquid mixture into the stock pot with veggies. Simmer on low/medium heat stirring occasionally as the mixture thickens. Chop chicken into small chunks and add them to the casserole filling mixture along with any drippings from the chicken left in the pan. Stir and let simmer on low heat while you prepare the crust topping.
Preheat oven to 375 degrees. In a food processor combine whole wheat flour, cubed butter and salt. Pulse until the butter is in pea sized chunks. Add water a tablespoon at a time, pulsing with each addition of water until the mixture being to form a ball within the food processor. Turn the dough out onto a lightly floured surface. Form the dough into a rectangle shape. Roll the dough out until it is a bit larger than 9X13 inches.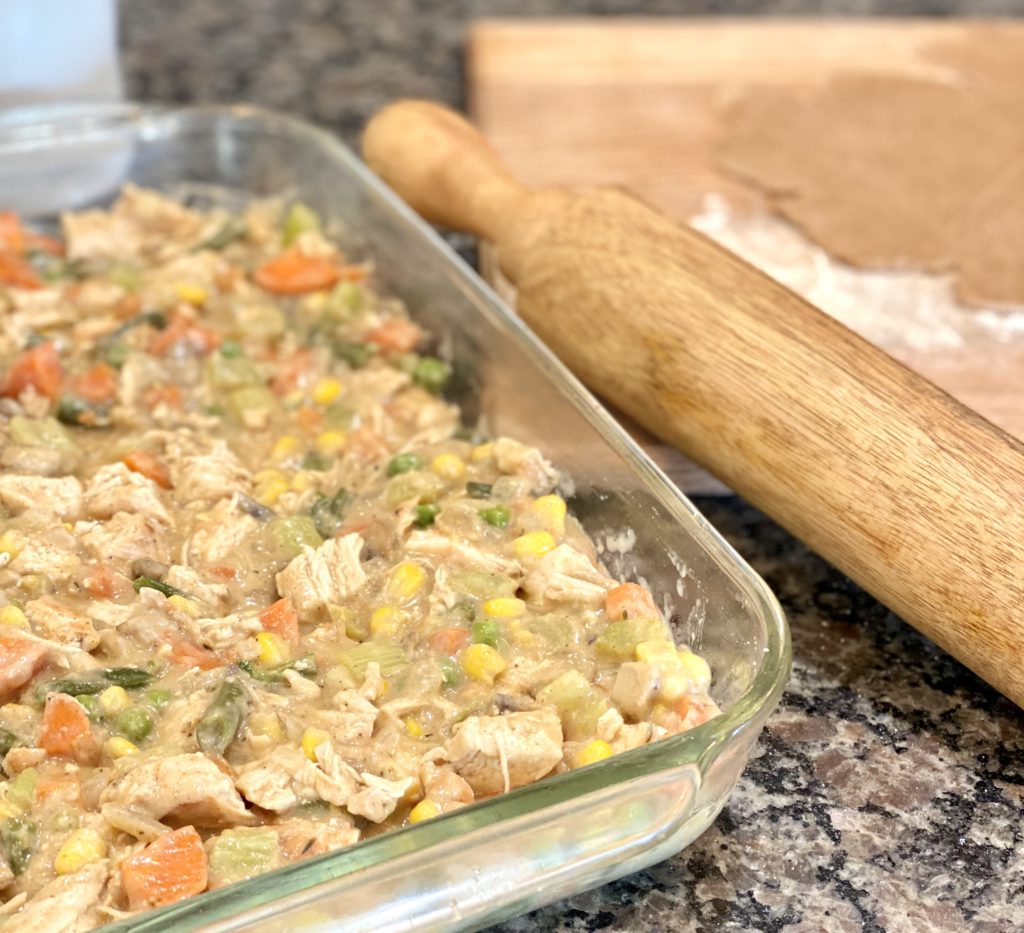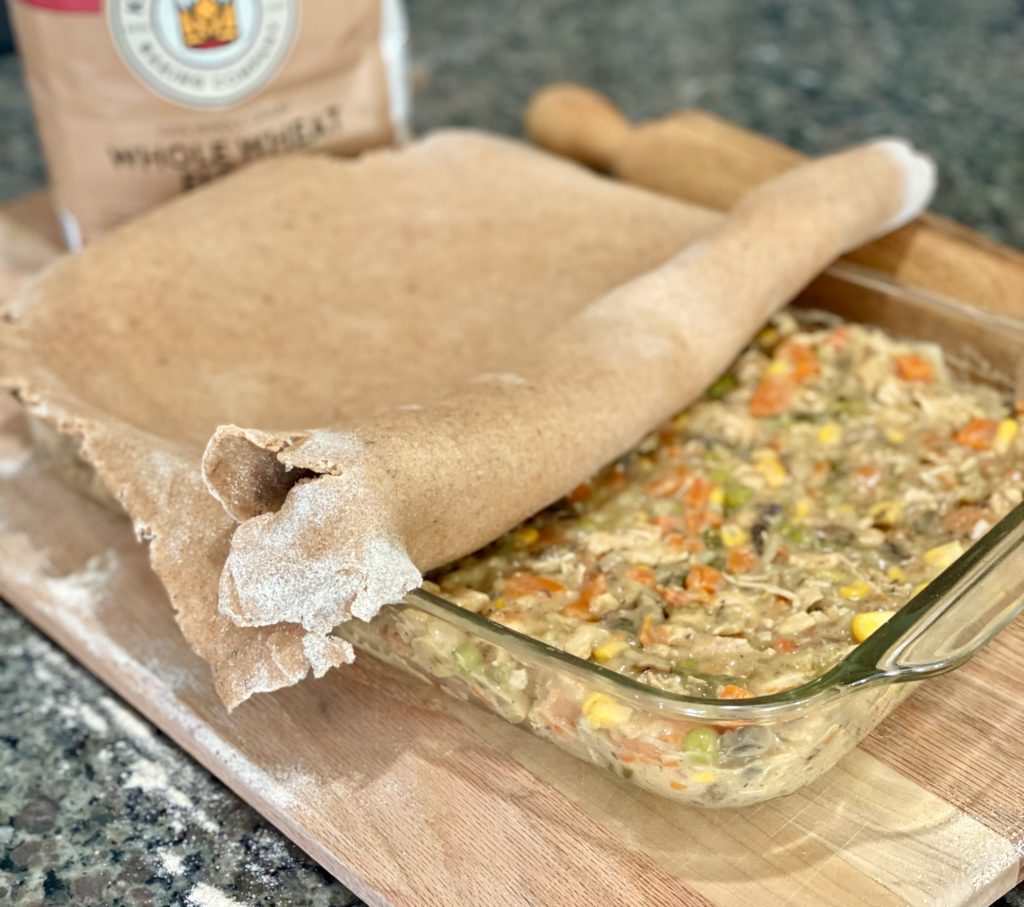 Pour the casserole filling into a 9X13 glass dish. Carefully roll the dough up horizontally, lift the rolled dough and place it on one of the 9 inch ends of the glass dish and carefully roll out over casserole mixture. Cut off any excess dough and press dough around the edges of the dish to create a seal. Cut a few small slits near the center of the dough to create a few air vents. Place oven rack on second level from the top of the oven. Bake for 25 minutes. Serve and enjoy!