Ingredients: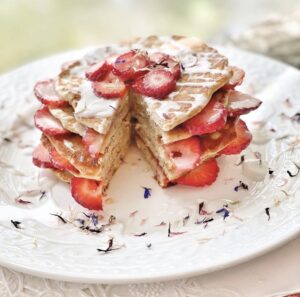 2 eggs ⠀
2 scoops vanilla protein powder ⠀
1/4 cup whole wheat flour ⠀
3 tablespoons old fashioned oats ⠀
2 tablespoons flaxseeds ⠀
Pinch of salt ⠀
1/4 teaspoon cinnamon ⠀
6 tablespoons milk (I used cashew milk)⠀
Oil for cooking (I used coconut oil)
Instructions:
Mix the eggs, protein powder, flour, oats, flaxseeds, salt, cinnamon and baking powder in a large bowl. Whisk in milk.⠀
Place a non-stick skillet on the stove over medium heat. Let coconut oil melt. ⠀
Using a 1/3 measuring cup, pour batter into the skillet. They are ready to flip when bubble start to form on the top. Makes about 8 pancakes. Serve and enjoy!