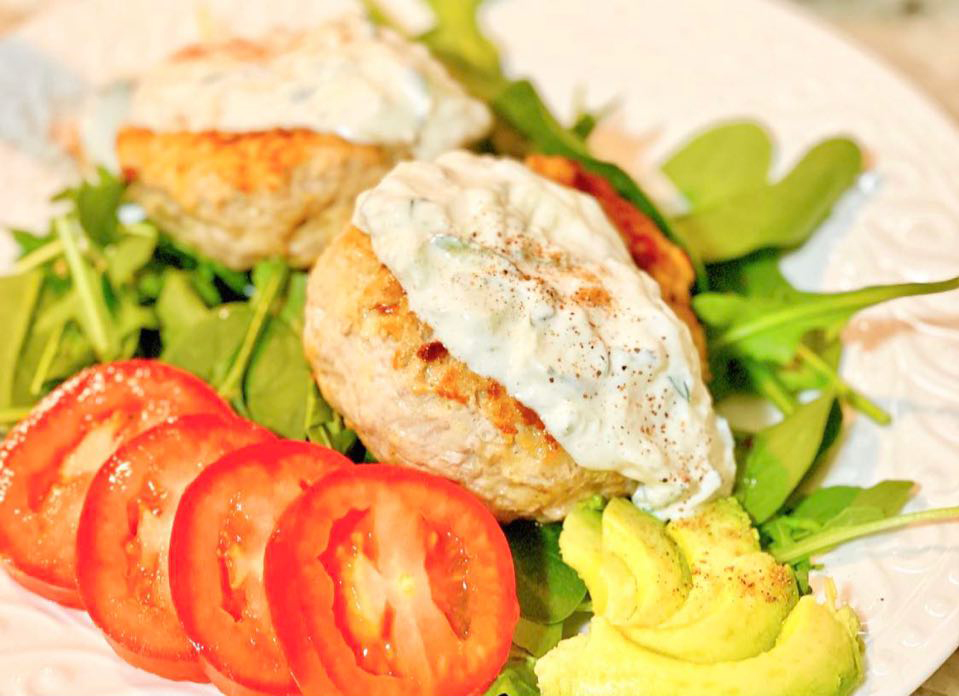 Ingredients:
For the burgers:
1 lb. lean ground turkey
1 tsp. curry powder
1 tsp. salt
¼ tsp. garlic powder
¼ tsp. onion powder
¼ tsp. ground ginger
¼ tsp. pepper
1 ½ tablespoons of olive oil for cooking
For the yogurt sauce:
½ cup Greek yogurt
¼ cup grated cucumber
¼ tsp. salt
1 tsp. of lemon juice
Dash of nutmeg
Dash of coriander
Dash of cinnamon
Pepper to taste
Instructions:
In a small bowl combine the curry powder, salt, garlic powder, onion powder, ground ginger and pepper. Mix so that all the spices are combined. Sprinkle the seasoning mixture over the ground turkey and combine by hand. Form the mixture into four even patties.
Put the burgers on a plate and set them in the fridge. Using a hand grater, grate ¼ cup of cucumber. In a medium sized mixing bowl combine cucumber, Greek yogurt, salt, lemon juice, nutmeg, coriander, cinnamon and pepper. Mix until all ingredients are combined. Set the yogurt mixture in the fridge while you cook the burgers.
Add the olive oil to a large nonstick fry pan. On medium to high heat sear the burgers on both sides, about one minute on each side. Reduce heat to low to medium and cook the burgers for about 12 minutes flipping them over occasionally.
Top with yogurt sauce and enjoy on a bun or atop a bed of greens!