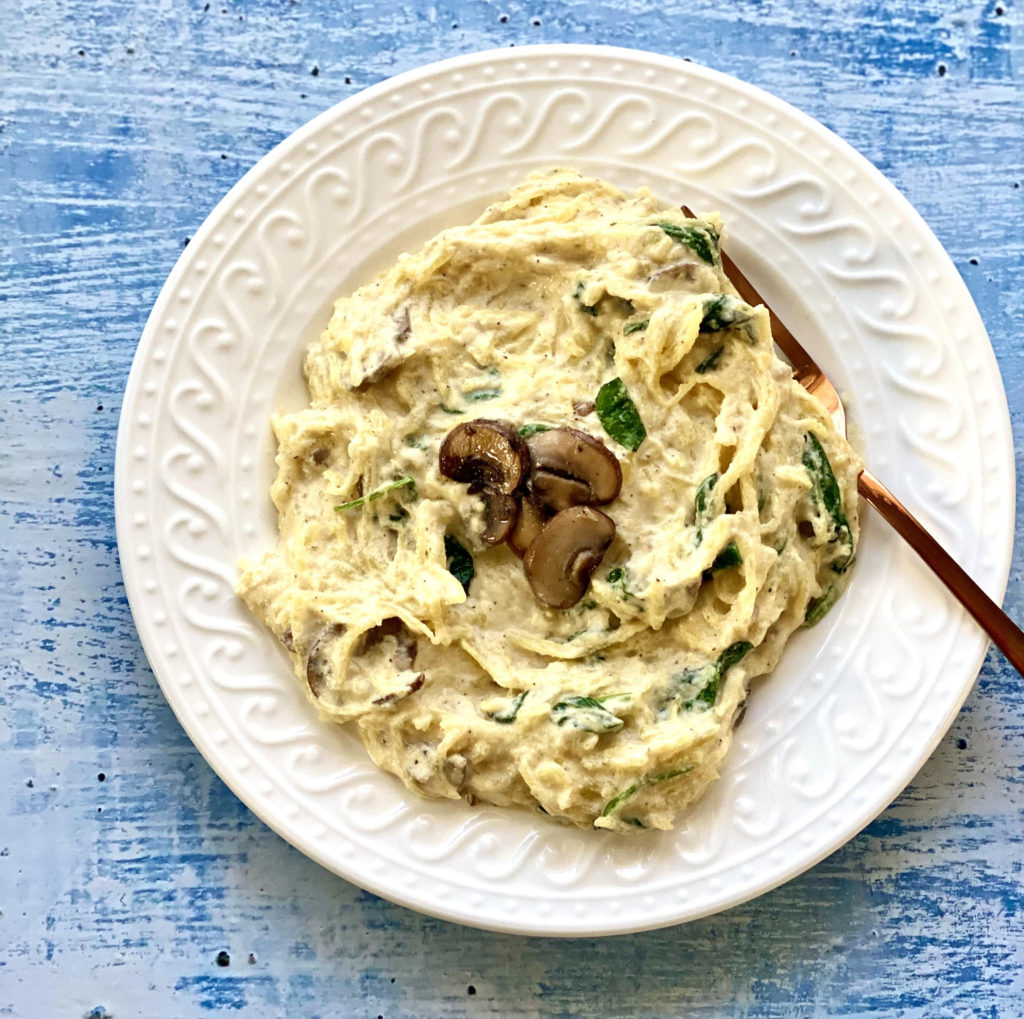 Ingredients:
1 Large spaghetti squash
3 cloves of garlic
8 oz. sliced mushrooms
1 ½ cup raw cashews (soaked in water for at least 2 hours- soaked overnight is best)
¾ cup vegetable stock
½ cup full fat coconut milk
2 cups fresh baby spinach
1 ¼ teaspoon salt, divided
½ teaspoon pepper, divided
3 tablespoons extra virgin olive oil
Instructions:
Preheat the oven to 400 degrees. Using a sharp knife cut off the top and the bottom of the spaghetti squash. Stand the squash upright on a stable surface and cut the squash in half horizontally.
Using a large spoon scoop out the seeds of the spaghetti squash and discard them. Rub 1 tablespoon of olive oil inside of each half of the spaghetti squash. Sprinkle each half with a little salt and pepper. Place both halves of the spaghetti squash interior side down on a large baking sheet. Bake for 45 minutes or until the interior is easily pierced with a fork.
In a blender or food processor blend soaked cashews, vegetable stock, coconut milk, 1 teaspoon of salt and ¼ teaspoon of pepper on high until the mixture is smooth and creamy stopping occasionally to scrape down the sides with a spatula. Set mixture aside.
In a large skillet sauté the mushrooms, minced garlic ¼ teaspoon of salt and ¼ teaspoon of pepper on medium heat stirring often for about 3 minutes. Reduce the heat to low and cook for another 5 minutes until the mushrooms are tender continuing to stir often. Add the baby spinach to the skillet and toss until the spinach has wilted.
Remove the spaghetti squash from the oven. Using a fork, fluff the interiors of the squash. The squash should start to break apart into strands. Remove all the spaghetti squash and discard the outer skin of the squash.
Add the spaghetti squash strands to the skillet along with the mushroom and spinach mixture. Pour the cashew sauce over the squash, mushrooms and spinach. Gently mix the ingredients together over low heat until all ingredients are coated in sauce. Sprinkle with additional salt and pepper if desired. Serve and enjoy!