Ingredients: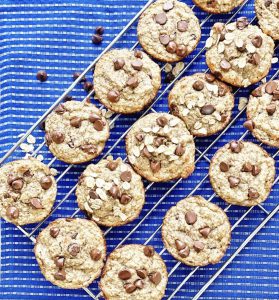 3 overly ripe bananas
1/2 cup sliced almonds
1 1/2 cup oats
1/2 cup flax
1/4 cup chia seeds
2 eggs
3 1/2 tablespoons of honey
1 cup plain Greek yogurt
1/2 teaspoon vanilla extract
1 1/2 teaspoon baking powder
1/2 teaspoon baking soda
1/4 teaspoon salt
1/4 teaspoon cinnamon
Instructions:
Preheat the oven to 400 degrees F. Lightly grease standard size muffin tins (makes 16-18 muffins) or line with paper liners. If using liners, lightly grease them as well. I used coconut oil to grease the tins.
Place all ingredients (except for the chocolate chips) in to the food processor or blender. Blend or process on high, while periodically stopping to scrape down and stir the ingredients a couple of times. Blend or process for about 2 minutes.
By hand, fold in 1/2 cup of the chocolate chips. Fill the tins about three fourths of the way full (no more than three fourths full!) Evenly distribute the rest of the chocolate chips on top before baking.
Bake for about 15 minutes or until a toothpick inserted in the center of a muffin comes out clean. Place the pan on a wire rack and let the muffins cool for a bit before removing them from the pan. Enjoy!